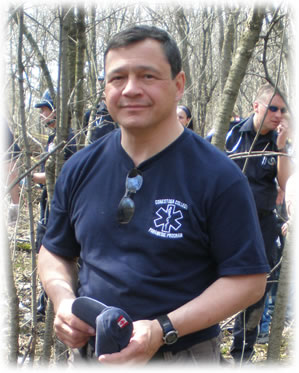 Will Robin Young is a retired professor of Paramedicine. He taught at Humber College in Toronto, Ontario for 21 years and then at Conestoga College in Kitchener, Ontario for 9 years. He retired in 2016. He was a regular contributor to Canadian Paramedicine magazine, focusing on paramedic safety, paramedic education and EMS stress. He is a member of Global Medic and has travelled to Seim Reap, Cambodia and Luena, Angola, presenting Acute Trauma Management courses to paramedics supporting the landmine clearers. He has also travelled to the Philippine Islands to assist with Typhoon relief, and assisted in humanitarian relief in many other countries. Robin is an Advanced Emergency Medical Care Assistant (A-EMCA) and has worked with Toronto Emergency Medical Services.
Robin has a M.A. in Adult Education in the Community College from Central Michigan University and a B.Sc. (Honours) in Health Studies from University of Waterloo. He is a graduate of the Ambulance and Emergency Care Program from Humber College.
He has vast experience in the Combative Arts, having studied and taught Chinese Hung Kuen, Jujitsu, Police Defensive Tactics and Non-Violent Crisis Intervention. He has also studied Aikido and Judo. Robin has developed and presented programs for EMS services and college paramedic programs regarding Crisis Intervention, personal safety and self-defence.
His company, Paramedic Self-Defence, was formed to educate and train paramedics and health care professionals in personal protection strategies. He has presented seminars and courses to paramedics and paramedic students on personal safety, EMS stress and self-defence.